This shop has been compensated by Collective Bias, Inc. and its advertiser. All opinions are mine alone. #CreateWithHP #CollectiveBias
Heading off to college is exciting! Chances are, if you're a new college student, it's your first time living in a dorm room or apartment away from your parents. Dorm living is great because it gives you more independence. However, it can also be difficult to personalize your room as much as you were able to when you were living at home. Many apartment complexes and colleges with on-campus housing have strict rules about what you can and can't have in your new space.
Printables are inexpensive, and you can easily use them to personalize your new dorm room! Today, I'm going to show you two types of printables I use for decoration in my apartment.
My favorite printer to use for my printables is the HP AMP 100 Printer. As the world's smallest AiO printer, the HP AMP is a highly affordable device that is great for printing memories. I love this printer because it is very accessible and easy to use. With the HP AMP, I can print pictures directly from my social media accounts to create tangible copies of my favorite photos. I can also scan on the go and easily order ink. The compatible HP Smart app makes printer setup a piece of cake.
But it gets even better! The HP AMP is not only a printer, but also a Bluetooth speaker! I use my HP AMP to play high quality music when I'm hanging out in my room. It contains a USB charging port, so I can charge my phone with it. I can also make and receive phone calls from my printer with the Bluetooth technology.
I purchased my HP AMP at Walmart. I had a great in-store experience, and I found exactly what I needed. The HP AMP can be found in the printer section.
Walmart is hosting in-store demos of the HP AMP at select store locations. If you live in the Orlando area, you can visit the Walmart near the intersection of E. Colonial and Alafaya Trail on Fridays from 4 p.m. to 9 p.m. or Saturdays from 11 a.m. to 6 p.m. to check out one of the in-store demos.
The HP AMP is perfect for college students because it is the perfect size for a dorm room, it has many useful functions, and it's highly affordable! Click the link in the image below to purchase your own HP AMP 100 Printer.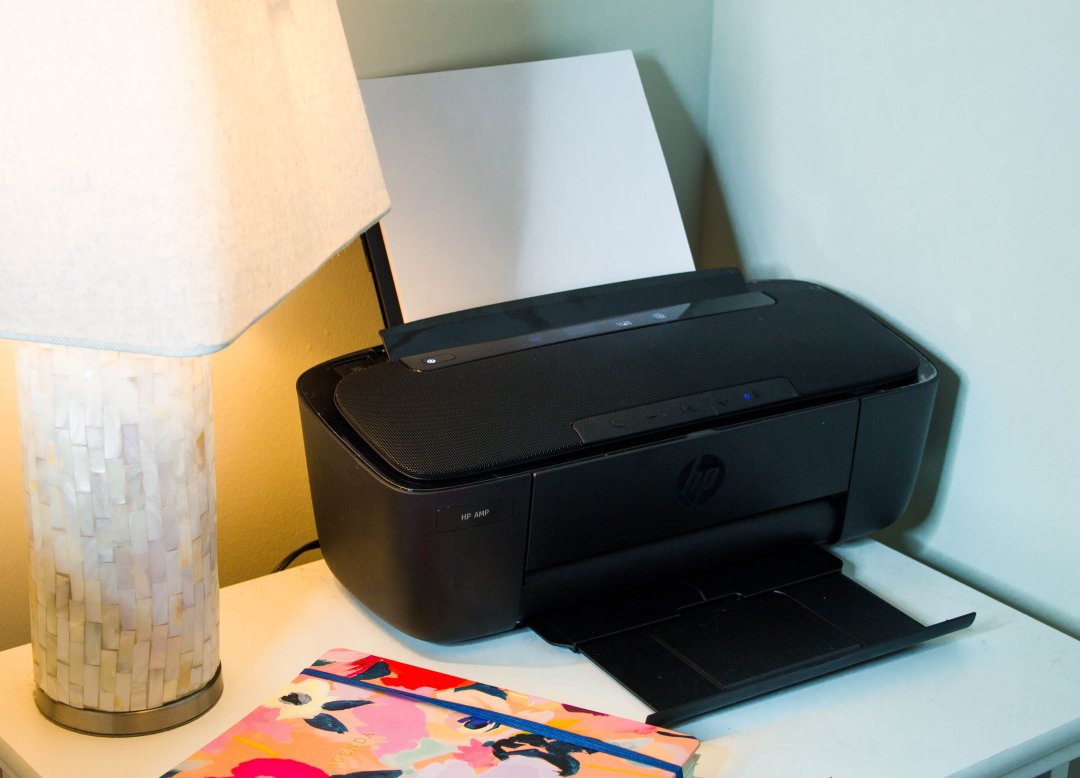 Check out how you can personalize your room with printables below!
Printable wall art
If you enjoy art, inspirational quotes, or pretty things in general, printable wall art is a great way for you to express yourself and add striking visual elements to your new space. I have a few pieces of wall art in my room with inspirational quotes on them. I can smile waking up to some motivation every day, and plus they add a very feminine look to my room!
Here's how you can use printable wall art in your own space:
Find some wall art you would like to print. If you don't know where to start, I'd recommend looking on Pinterest for some that you like. Pinterest is full of pretty visuals! You can also check out 15 inspirational quote posters I created (including the two pictured above) here.
Print out your wall art using your HP AMP printer. The HP AMP makes it easy to print photos directly from your smartphone, which is very convenient when you want to print something off of social media.
Buy a matching frame for your wall art. I usually use simple and plain ones to let the artwork stand out on its own.
Hang your wall art and enjoy it!
Personalize with photos
College is full of unforgettable memories. I know that I will always want to remember the friends I made and the (often crazy) times we had together. Another great way to personalize your dorm room is to print out tangible copies of your amazing college memories. I used my HP AMP to print photos directly from my Instagram feed. I post many of my photos with friends on social media, so the ability to print directly from Instagram is highly convenient for me!
For my room, I hung string lights with clothespin-like fixtures on them so I can attach photos to the lights. I thought it was a really cute way to treasure my memories.
You can also print out your photos and hang them for a more traditional look. The great thing about printing out photos yourself is that you can customize the size, paper, and look of the photos. It's also much more affordable than ordering them! I print a lot of my photos out, so having my own printer is essential.
So, what are you waiting for?
Get to printing and personalize your dorm room right now!