This shop has been compensated by Collective Bias, Inc. and its advertiser. All opinions are mine alone. #OwnWhatYouEat #CollectiveBias
The New Year is right around the corner, which means it's time to start thinking about the choices we're making in our everyday lives. Are you happy right now, or do you feel like your life is dragging?
2018 is the time to start thinking about your health, wellness, and lifestyle choices. If you aren't satisfied with your current living situation, it's time to own your choices instead of allowing them to own you.
Today, I'm sharing five ways you can prioritize your health in the upcoming year:
1. Make healthier meal choices.
This tip might seem cliché, but nutrition is crucial for maintaining health. By making healthy food choices, we can provide ourselves with the fuel we need to succeed. As a busy public relations professional, full-time student, and blogger, I admit that I have sometimes had a hard time making nutritional food choices in the past. The truth is that I can't take the time to cook a hot breakfast every single morning. Often, I need food options that are quick and easy. Unfortunately, many "quick and easy" food options are not healthy.
I've decided that I am going to own my health in 2018. I am going to prioritize my nutrition and eat as healthily as I can, even between my busy schedule.
I'm so glad I discovered Special K. The great thing about cereal is that it is a quick breakfast option that doesn't require cooking. Special K produces cereals and snacks with your health in mind. Using fresh ingredients and a lot of love, Special K wants you to make healthy choices and own your lifestyle.
And even better, Special K is delicious! Recently, I have been enjoying Special K cereal for breakfast every morning. It helps me start off my day the right way. My favorite flavors are Fruit and Yogurt and Red Berries. I also like the Cinnamon Brown Sugar Crunch flavor of the Special K Protein Cereal.
I purchase all of my Special K products at Target. I enjoy shopping at Target because everything is easy to find and the staff are helpful. Special K is located on the cereal aisle.
Some of my favorite snacks to keep in my purse on busy days are the Special K pastry crisps. I like the Strawberry and Brown Sugar Cinnamon flavors.
These are portable, healthy, and delicious! I enjoy snacking on them in between meals when I feel like I need a pick-me-up. Each individually wrapped package contains two pastry crisps, and each crisp is only 50 calories each! These are such a treat, and I love that they are guilt-free.
Own your life in 2018 with Special K. To help you out, I have a couple of great offers to share with you:
From 12/31/17 to 1/16/18, select Special K Bars and Cereals are 2 for $4 at Target.
Until 6/1/18, you can get a free Swell bottle with an empowerment message on it via Kellogg Family Rewards when you purchase 3 participating Special K products! Reciepts must be submitted by 7/1/18. Click here to learn more about this awesome offer.
Click the shoppable image below to purchase the products mentioned in this post.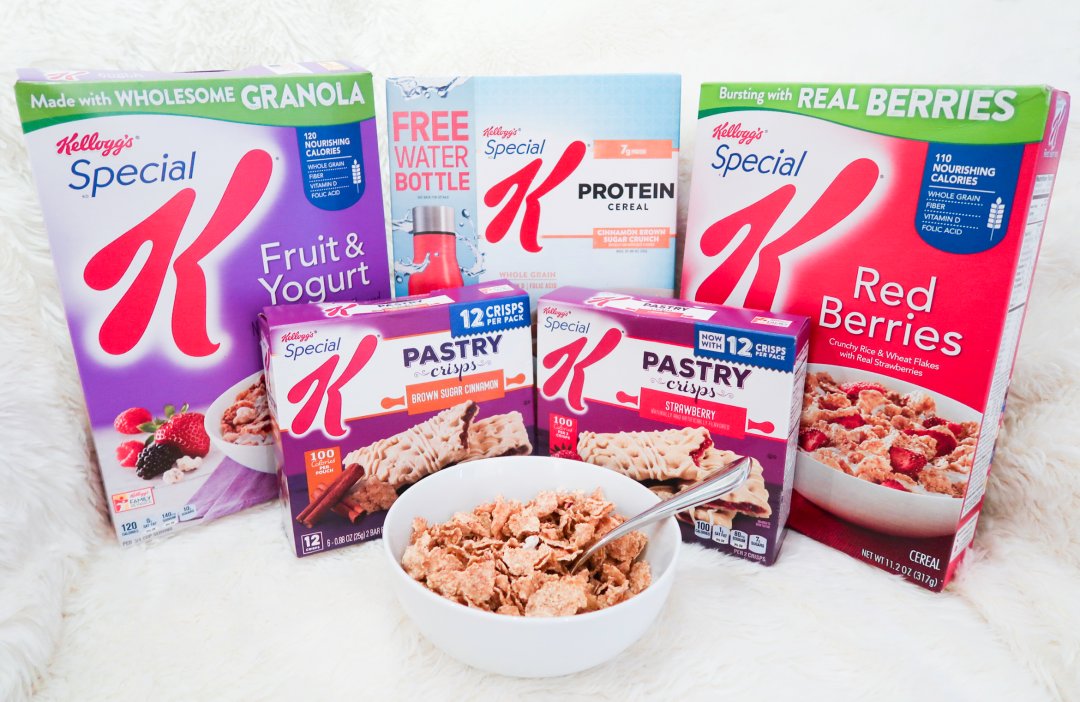 2. Try to stick to a regular bedtime.
Having a regular sleep schedule is more important than you might think. Getting proper sleep can benefit your heart, mind, weight, and more. If you go to bed at the same time every night and rise at the same time every morning, your body can get itself into a routine.
3. Find a fitness activity that you enjoy.
Working out doesn't have to be boring! Find a fitness activity that you enjoy, such as dancing, cycling, or yoga. If you get fit while having fun, you won't dread working out!
4. Make time for self-care.
Self-care should be a part of everyone's routine. Busy people like me often don't make enough time for self-care, but it's crucial for staying happy and living a positive lifestyle. Even just taking time to read a chapter of a book or take a bubble bath counts! Make a little time for self-care regularly and you will see a change in your outlook on life.
5. Spend more time doing things you enjoy.
Life is short, so why are we spending it doing things we don't enjoy? 2018 is your year! Spend it however you'd like to. Focus more on the things you enjoy doing and less on the things you don't. You will be so much happier if you focus on the things you love in 2018.
That's it! I hope this post was helpful. If you enjoyed it, don't forget to pin it and enter your email in the box below to subscribe to me.